Premier Employee Healthcare Benefits Benchmarking
Scalable, one page, tens of thousands of data points, plan values, dollars, and percentiles
Case Study: Acme Construction
Acme's goal: offer competitive benefits to attract and retain talent
– Acme employees pay $1,400 per year via payroll for single coverage (40th percentile) and have gold level health plan benefits, near the median relative to their peer group.
– A lower deductible or out-of-pocket maximum are two ways to increase the plan value; lowering employee payroll contributions makes the package more competitive ($400 lower would mean 65th percentile, or more generous than 2/3 of similar firms).
– Contributions to premiums are a key part of benchmarking that is often omitted. The tool allows you to quickly model in one page to set percentile or dollar targets, aid in client renews, give key insights for HR managers, and more.
– Save and share a quick snapshot of only what is most relevant.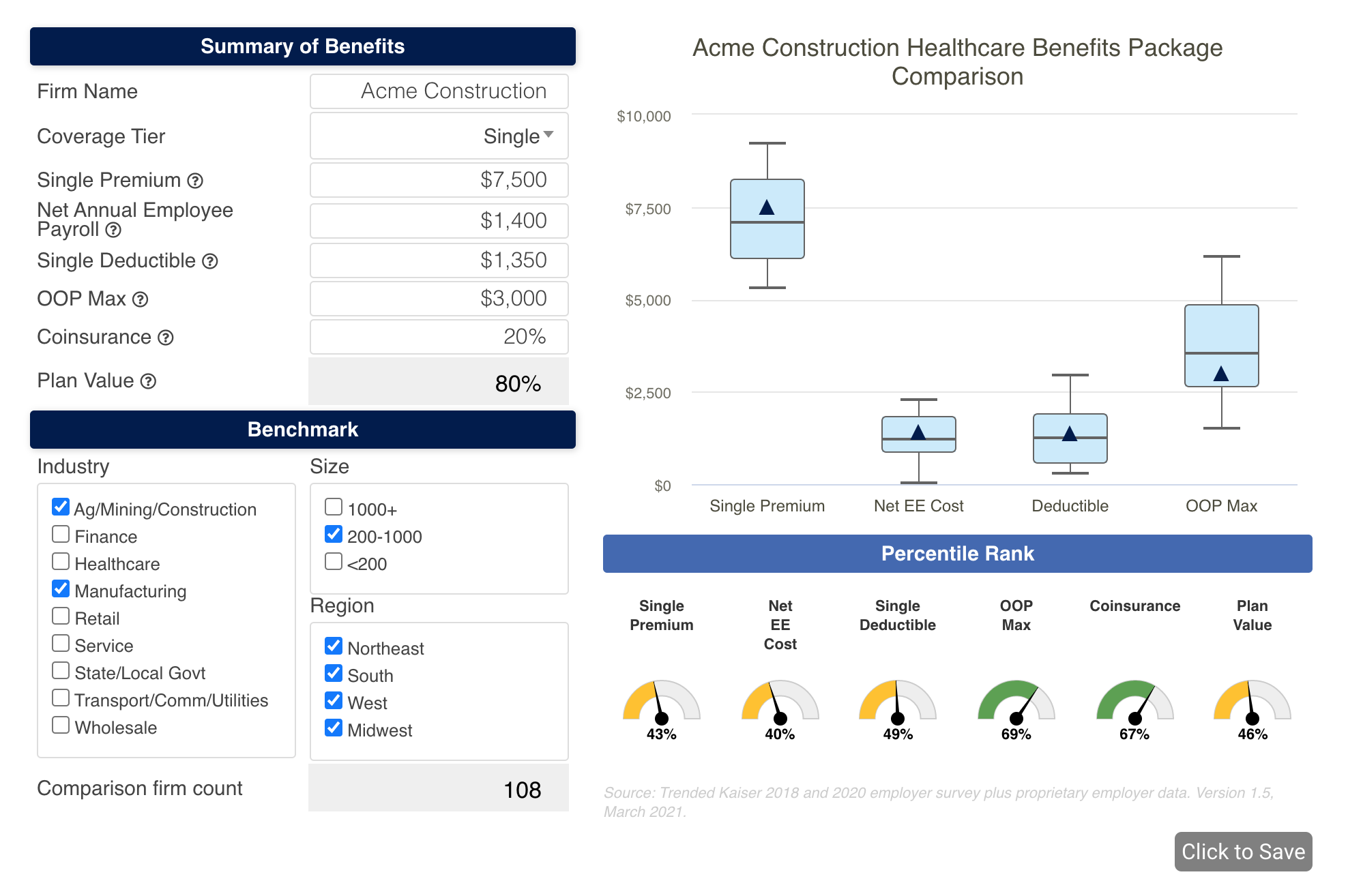 Unlimited. Scalable. 2,500+ firms to compared against. Quickly model the key drivers, in dollars and percentiles, for clients and prospects. All on one page.​
How do I license the tool? Click "15 day trial." No payment info is required upfront. After 15 days you can switch your account to a paid account.
What's the source of the underlying data? The Kaiser Family Foundation Employer Benefits survey underlying data, trended from 2018, with 2020 data + proprietary employer data.
How often is the data refreshed? Once per year for Kaiser data; employer data is loaded periodically.
What is plan value? Plan value approximates actuarial value, or, on average, the percentage of in-network claims paid by insurance. Values range between 60% to over 90% and are often referred to by metal levels. Bronze is 60%, Silver 70%, Gold 80%, and Platinum 90% +/- 2%. Healthier people will have lower claims and pay a greater percentage, while those with higher claims will pay a lower percentage of the value.